Orchestra 990 2009/2010 Season
$25.00
Buy More And Save!
purchase 2-5: five percent discount
purchase 6-10: 10 percent discount
purchase 11-15: 15 percent discount
purchase 20+: 20 percent discount
Description
So what makes these so special?
They are grouped by season.
The default random alpha-numeric filenames have been changed to the orchestra name (becasue opening a bunch of files to find the one you need is for chumps).
The files have been processed through Adobe Acrobat's optical character recognition (OCR) scan. This will make the files keyword searchable (a huge time saver!).
Each season comes with a corresponding notes document pointing out any need-to-know items. For example, when an orchestra changes its fiscal year it is common to find two IRS filings, one that covers time through the end of the previous fiscal year and one to cover the extra time through the end of the new fiscal year.
You'll be able to download the file immediately after completing your purchase and the password to unzip the file will be included as a separate pdf file download.
Which orchestras are included?
Each download includes every ensemble from that year's corresponding Orchestra Compensation Report: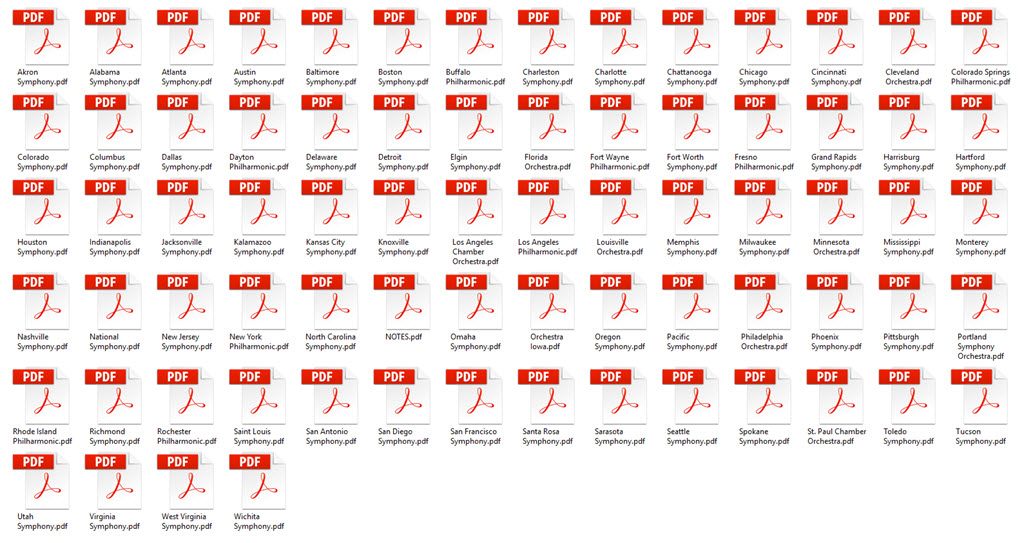 If you have any questions, feel free to ask.
Can't I download these myself?
Yes, but…
You can download copies of IRS 990s at Guidestar.org. In fact, the Orchestra Financial Reports page at Adaptistration.com maintains a list of direct links to more 77 orchestra's financial reports page at GuideStar. If you only need to download half a dozen or so from the three most recent years, that's a great option.
But know that you'll only find the three most recent season's worth of filings unless you have a paid Guidestar account (those start at $87 per month). But three years isn't nearly enough to conduct any meaningful comparative analysis, as such, I'm digging deep into my resource archives and will be rolling out copies that stretch all the way back to the 1999-2000 season!
On top of that three year cap, there's the actual time spent downloading and collating.
Let's say you're pretty quick and it takes you 45 seconds to download all three available 990s per group. For 77 orchestras, that's just about one hour of time. Once that's done, you will need to rename and collate the files (which takes far more time than the downloads). Do you want to do any keyword searches? Then add on even more time for OCR processing.
By the time you get through all of that, you're staring at more than six hours of time or longer if you don't have a super-fast computer for the OCR process (assuming you have the necessary software to begin with).
Even using the super low $7.25 minimum wage (and your time is worth more than that, right?), you're looking at $50 of labor.
In the end, these downloads not only save time but improve efficiency and go a long way toward making your task that much happier.
Buy More And Save With Quantity Discounts
purchase 2-5: five percent discount
purchase 6-10: 10 percent discount
purchase 11-15: 15 percent discount
purchase 20+: 20 percent discount
All discounts are applied to your order automatically; no need to coupons or discount codes.